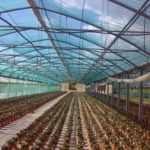 The MONOTEX nets, produced in high quality monofilament, guarantee a high coverage factor, able to limit the passage of solar rays. This type of fabric, it is not waterproof then let water and air pass.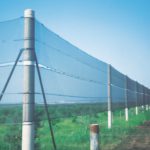 Purposes  
The nets reveal all their ease of application and service effectiveness in creating shading structures and valid seasonal protections suitable for many types of crops (flowers, plants, vegetables).
For the protection of orchards, especially in the case of young plants, the nets are indispensable in the period of flowering, in favoring the fruit set and in preventing early fall.
Monotex 50 green is used as windbreak net in citrus and tropical fruits cultivation.
Features
Product

Color

Shade

%


Mesh

mm

Weight

g/m²

Width

m


Length

m


MONOTEX 30

neutral

green

black

12

22

30

0,97 x 2,2
85
2 – 2,5 – 3 – 4
400
MONOTEX 50

 neutral

green

black

15

43

48

0,97 x 1,54
95
2 – 2,5 – 3 – 4
400
MONOTEX 75

green

black

60

67

0,35 x 1,38
145
2 – 2,5 – 3 – 4
400

KENTIA 90

(realized with Rafia in yarn e monofilament weft)

green

black

85

90

/

200

200

2 – 2,5 – 3

2 – 2,5 – 3

100

100
Customized products on request

For more information contact us