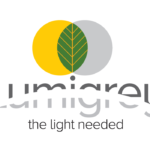 A new generation of shading nets, Lumigrey® thermo-reflective screens are able to offer an excellent control on light as well as on temperature eliminating sunburn damages.
Benefits are highly considerable, also during summer transplanting, in which lowering temperatures inside the structure gives young plants a better and more rapid rooting.
That is the reason why Lumigrey® screens are effective for the production of salads and IV gamma in general, in the production of tomato and pepper under tunnels, and also on small fruits.
Advantages of greenhouses and tunnel protected with Lumigrey:
Excellent temperature control
Reduction of  water consumption
Greater permanency  of optimal conditions for full photosynthesis
Higher presence of diffused  light
Better working conditions for operators
Product

Colour

Shading

%

Weight

g/m²

Width

m


Lumigrey 30
grey
30
45
2- 2,5 – 3 – 3,5 – 4 – 4,5 – 5 – 6 – 8
Lumigrey 40
grey
40
59
2- 2,5 – 3 – 3,5 – 4 – 4,5 – 5 – 6 – 8
Lumigrey 50
grey
50
76
2- 2,5 – 3 – 3,5 – 4 – 4,5 – 5 – 6 – 8
Lumigrey 60
grey
60
86
2- 2,5 – 3 – 3,5 – 4 – 4,5 – 5 – 6 – 8
Lumigrey 80
grey
80
96
2- 2,5 – 3 – 3,5 – 4 – 4,5 – 5 – 6 – 8
For more informations contact us
2017_AGRINTECH•LUMIGREY DEPLIANT