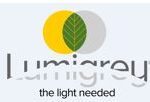 Lumigrey® reflective screens are new generation shading which, relying on the high reflective power of the strip, allow a significant reduction in temperatures, creating a microclimate favorable to the development of plants.
APPLICATIONS
Lumigrey® is indicated for covering horticultural productions such as tomatoes and peppers, in the IV range (salads, baby spinach, basil, aromatic herbs ..) and small fruits.
In general, it brings significant benefits in all crops that need light control and a more comfortable environment in the greenhouse.
Advantages of Lumigrey:
Excellent temperature control
Reduction of  water consumption
Greater permanency  of optimal conditions for full photosynthesis
Higher presence of diffused  light
Better working conditions for operators in the hottest hours
DATA AND SURVEYS
The advantage of Lumigrey® screens is evident especially when compared with the old time-based lime fouling solution which could not guarantee uniform shading conditions or with other black or white shading nets which, not being able to count on the aluminized color, can only reduce the light but have difficulty in limiting thermal stress.
The range of shading percentages, available from 30% to 80%, can be easily adapted to all greenhouse crops according to the physiological needs of the plant.
Product

Colour

Shading

%

Weight

g/m²

Width

m


Lumigrey 30
grey
30
45
2- 2,5 – 3 – 3,5 – 4 – 4,5 – 5 – 6 – 8
Lumigrey 40
grey
40
59
2- 2,5 – 3 – 3,5 – 4 – 4,5 – 5 – 6 – 8
Lumigrey 50
grey
50
76
2- 2,5 – 3 – 3,5 – 4 – 4,5 – 5 – 6 – 8
Lumigrey 60
grey
60
86
2- 2,5 – 3 – 3,5 – 4 – 4,5 – 5 – 6 – 8
Lumigrey 80
grey
80
96
2- 2,5 – 3 – 3,5 – 4 – 4,5 – 5 – 6 – 8
For more informations contact us
Lumigrey 40% on rocket salad prov_Salerno
Lumigrey + Oasi Plus